ORGANIC GROWING & TERROIR
A wine's typicity stems from its combination of terroir-variety which imparts structure and aromatic harmony. The concept of terroir involves respecting the soil and its environment. At Domaine de Montvac, herbicides and pesticides are non grata. The entire estate is cultivated organically, and our methods are Ecocert certified. Our vines are in sync with nature, so that they give of their best and make our wines as complex and distinctive as can be. Although the land is worked mechanically, the architecture of each vine is crafted by hand.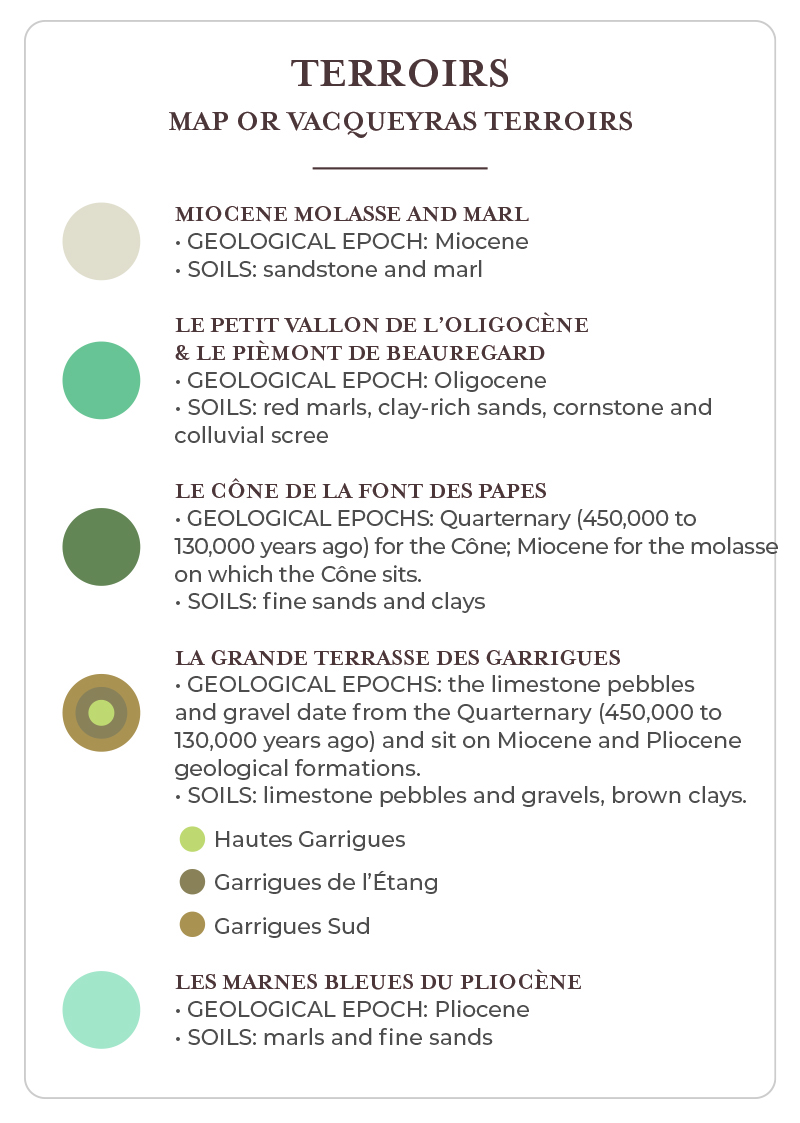 RED GRAPE VARIETIES
The iconic Grenache noir is most widely planted. In stony soils and on sun-soaked hillsides, it will serve up its generous character and its symphony of aromatics.
Our Syrah vines, planted in cooler soils, will contribute fruity and floral notes and rich colour.
And our Mourvèdre is used parsimoniously to increase the aromatic persistence of the final blend.
Counoise, Carignan, Grenache gris, Clairette rose and Cinsault are late-ripening varieties with lower phenolic maturity. They impart freshness and, above all, the diversity we need to make complex wines.
WHITE GRAPE VARIETIES
Clairette is the main grape used to produce our white wines; its delicacy lends finesse and subtlety.
When teamed with Roussanne's wealth of aromatics, Bourboulenc also has a role to play, providing the natural acidity that will ensure attractive balance.
Respect for the terroir means respecting the grapes that grow there. We do not crush them; we destem them; and we leave their native yeasts to do the work. Morning and evening analyses, and daily tastings, guide vinification. We only carry out light-touch interventions (infusion and short, gentle pumpovers) that coax out all the grapes' qualities.
After fermentation, the wines are kept in an underground cellar, where they evolve slowly and serenely in concrete vats (reds) and demi-muid barrels (whites).
Thanks to the Wineglobes, Variation and Complicité are particularly pure, with crystal-clear aromas and well-crafted style that enhance their complexity.
To keep full control over our wines, we bottle them at the estate with our own equipment.